If your book was made into a movie, who do you picture playing each part?
My sister-in-law has already chosen Ben Affleck to play Jack Canon. It's funny – I took the first draft on vacation to Disney. At first she didn't have any interest, but my mother-in-law was reading and commenting – enjoying the story. So, my sister-in-law, Terri, picks up the pages mom had finished and turned them quickly – long story short – she ended up loving Jack! She bought a kindle just to read the final version. I figured Katherine Heigl could play Sandy. Sandy is blonde and beautiful and fixes herself up to look like Marilyn Monroe partway through the story for Jack. Daphne Cole is going to be tough to cast being the most beautiful woman perhaps on the planet. I thought maybe Selena Gomez, since Daphne is 24 in the story. I figure it will take three years for the book to catch on enough for movie makers to notice and maybe make a movie.
What's in a title?
The book should come with a
disclaimer
-
This is not hardcore politics
- If you're looking for that - Please do not read. The book is not hard-core politics, but it's set with a political campaign as the backdrop. People who tell me they love the book like the suspense and adventure. They enjoy the tender relationships.
My writing is tender and they respond to that. People who are looking for a book that screams politics will be disappointed, this is not for them.
Since the book is part of a series, I wanted the main character - Jack Canon, to be in the title. American Destiny signifies the goals Jack and his friends have for America. It also allows for all the other things I wanted to include in the story; murder, revenge, wealth, and corruption at the highest levels. In book one -
Think the crime of the century meets innocence.
Jack Canon has a tenderness toward his friends that was fun for me to weave through the story. There is a lot of love woven in.
The second book in the series is very romantic and it's title will reflect romantic innocence. Look for Camelot (The Romantic Sequel to Jack Canon's American Destiny) coming soon!
What is your favorite quality about yourself?
I'm able to stay with something until it's completed.
What is your main character Jack Canon's favorite color?
Blonde, with platinum highlights.
What is your favorite food?
My wife makes the best Meatballs this side of heaven.
What's your favorite place in the entire world?
Believe it or not – my backyard patio. I love it out there.
When and why did you begin writing?
I became truly motivated to write it after my mother's passing. Partially to help me cope with the loss. When I had a National Franchise, I used to go to Foxwoods or Atlantic City and gamble to get away. Now I write, some people golf, writing takes me totally away.
What genre are you most comfortable writing?
I write fiction; I've always had a very vivid imagination. I love writing the truth. I love flashbacks and secret thoughts, exposed.
How much of the book is realistic?
Ninety-nine percent is possible in real life.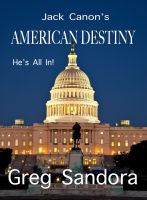 Take a Journey for the Greater Good in this intensely gripping, loving thriller. Join Jack Canon and his insanely loyal team of friends and family as they make their all-or-nothing run for the presidency. You'll laugh out loud and have your heart ripped in two; all while holding your breath, sitting on the edge of your chair. You'll become emotionally committed as you find yourself standing behind your new courageous – unstoppable heroes – forced to take unimaginable steps to reach their goal. You'll be shocked at the heart-wrenching cost.
JACK CANON'S AMERICAN DESTINY – TO SOMEDAY HAVE THE POWER, TO DEDICATE THE HIGHEST OFFICE IN THE LAND–TO MAKE THINGS RIGHT. THIS TIME HE'S ALL IN.
I wrote the story to appeal to both women and men. While everyone likes action and adventure, with components of power, crime and suspense. I wove the story with a tender romantic quality.
Meghan's Review. this reader captured the essence of the Story of Jack Canon. Both men and woman will enjoy the book.
"'Jack Canon's American Destiny' is one of those intense political thrillers that simply deserve to be made into a movie for full, complete enjoyment. This is especially true right in the wake of the recent Academy Awards and movies like 'Argo' and 'Lincoln' bringing home the bacon. But on its own, this book is immersive—you can live and breathe in the world of Jack Canon—his full range of concerns, from picayune to grandiose, consists of things that are close to every American's heart.
Jack Canon is an everyman—you can relate to his positive traits, even his minor character flaws, and mostly you can relate to his will get the presidency. Cleverly written, sprinkled with the right amount of "spice" to keep the level of interest high, 'American Destiny' is a tale that grips your heart and squeeze it—Jack Canon's mission to redistribute wealth and give everybody cheap energy is not exactly acceptable in the eyes (and pockets) of those whose businesses will be affected. And from there, the plot thickens.
Finishing the book, your heart aches because you know Jack Canon isn't real—he's an ideal, made magically alive by the sheer talent of Greg Sandora. But that doesn't mean we cannot aspire. As in the book's timeline, 2016, maybe the book is telling us to be really, really wise in our choices. Meanwhile, download a copy of this book and sink your teeth in the kind of literary entertainment I've never seen since Alex Cross."
Joanna's Review. "Jack Canon is an idealist. He's on the road to fight the good fight and the only road that will allow him to do that is the one leading to the White House. Great plan, but plans don't always end up going the way we want. This Senior Democratic Senator from Kentucky is a kind, smart, charismatic family man. He is a man of superior intelligence who isn't afraid to admit to a mistake. He has always been faithful, but he has a very intimate, hands off relationship with Sandy his assistant. Hopefully this won't derail his campaign…
"Jack Canon's American Destiny" is a sly ride on a slippery slope. This fast paced thriller is packed with political issues that mirror what we have going on today. If you notice, the villains are a conglomerate of who we have deadly problems with right now, so it echoes what we deal with on the global level at this time.
The author, Greg Sandora, manages to introduce all this well written madness in a way that will keep you glued to this book. Sandora has used well flushed out characters, timely villains, an image of our present president therefore the actions are very relatable to the reader.
Want to have some fun? Want to read something that will have you dangling over the edge of a cliff in that good way that starts your heart pumping and your adrenaline kicking in?"
Diane's review ."I rarely choose a book about politics, but since becoming addicted to the hit show Scandal, I thought Jack Canon`s American Destiny might be an interesting read. To my amazement, I totally enjoyed this political thriller.
Allow me to congratulate the author on his impressive debut. As a writer, he has a talent that allows an immediate connection with his characters, especially Jack.
The book moves at a relaxing pace. But I must admit, I became extremely absorbed when the author reveals an unexpected twist making it a suspenseful page turner!
I can't wait to read the highly anticipated sequel."
Jackie's review. "Get ready to take a ride. The suspense, the loyalty, the inside world of politics all wrapped into a thriller you will not want to put down. I am recommending this to my book club and any book club who wants a good read for a change."
Terry's Review.
I have read this book in it's infancy stage and was amazed. The final product riveting. Ben Affleck, you are the perfect Director, Producer and Actor to be Jack Canon. It is ready for the big screen. Read it now and you will want more of Jack. This book will inspire your next election choice. We need a real life Jack Canon for President. Move over Alex Cross, here comes a new generation hero. This is a story that can take many turns and always keep you waiting for the next chapter. It is written from the heart with passion, but with some hope for all Americans that fiction can be real if you only want it bad enough. So for you politicians out there that want to be the next President, read this book.
Greg Sandora
www.gregsandora.com
I'm originally from the Portland, Maine area and lived and worked there for years before moving to Southwest Florida. I am currently working on the sequel to Jack Canon's American Destiny – which will be titled Jack Canon Clean Sweep. The sequel will be available in about three months.
My Dad and Mom were artists, my father painted and my mother wrote poetry and loved to garden. Most Saturdays we loaded up the 1970 Chevy Impala to trek to a one man show somewhere or other. I took a different track graduating with a business degree; owning and operating an Award Winning Franchise Fitness Center. Currently a professional manager I am living in Florida with my beautiful wife and children, and following my passion.
Some of my other projects include a children's book called Sammy the Sea Turtle – about an infant sea turtle taken from his nest the night he was to find his way to the sea. Sammy lives with the family until their son – the boy who took him, graduates from high school. On that day Sammy, backpack in tow – begins the long journey home.
My second project in the works involves angels – a man during a visit to Bar Harbor Maine encounters an angel; quite accidentally, he is told – she was not supposed to make him aware of her existence. Only three others have ever seen the real thing. Naturally he falls hopelessly in love with the beautiful creature.
www.gregsandora.com
Book Description:
It's the steamy summer of 2016 in Washington, D.C. just days before the Democratic National Convention. A long and painful recession has left ordinary Americans suffering, spawning the hottest Presidential Contest in history. Jack Canon, a man born into privilege, a witness to great social injustice is going to be President of the United States–no matter what! Desperate and corrupt, the leader of the free world orders a hit to slow him down. The plan backfires–the wrong people are dead–a manhunt points to the unthinkable–The President of the United States.
Rewind one year, Jack's focus on redistribution of wealth and energy has made him powerful enemies. Once his friends, Rogue Billionaires, Oil Sheiks, the Mob, all want him gone. The current President wants him alive–thinking he can win against an unabridged liberal. A Universal Raw Nerve of wealth vs. poverty is exposed becoming a thrill ride as deep machinations of espionage, geo-politics and deception, even murder play out. Kind and charismatic, Jack's just naughty enough to have you falling for him like one of his loving circle of loyal friends. Of course he's flawed, a dedicated family man, faithful to one woman, but in love with two. Is it his fault his best friend is impossibly jaw dropping beautiful? Think the crime and passion of the Godfather meets the romance and innocence of Camelot. A story that could spark a movement, a book that can seed a revolution. A heart thumping climax so shocking you'll pull the covers and draw the shades! One things for sure, through all the drama and suspense, you'll be pulling for Jack!
Praise For Jack Canon's American Destiny:
"
I'll be the first to admit that I'm not the type to read political novels, but I was surprised by Jack Canon's American Destiny. The book was so well written that I couldn't help but keeping reading."
~A. Brantley, Amazon Reviewer
"
Wow - Great Read and Insight into Politics!"
~The Bookworm
The only thing that gave me a worse vibe than these two was Gene's taste in decorating. The ceilings were about 30 feet high and three walls held books up to about the first 15 feet, after which was a very large landing around three quarters of the room. The wall opposite the door was made up of five floor-to-ceiling arched windows. The bottom six feet of each had colonial muttons and were partially opened, allowing the outside winter cold to fight with the heat in the room. On the landings above the bookshelves were housed various artifacts of torture.
Gene saw me noticing, "These are from the collection of King Henry," he boasted.
There were guillotines and stretching racks and other devices all made of aged wood and black iron. Some had big weathered chain links hanging from them and leather straps. There were black iron turning wheels, the sight was gruesome.
Gene motioned to a large axe with a semicircular blade and an unusually long, thick handle.
"
This is my prized piece of the entire collection – the axe used to behead Katherine, Henry's youngest bride." Mounted next to the axe, on a polished cherry post, was a scrap of parchment.
Next to it, carved in gold lettering over black onyx, was inscribed an onlooker. The parchment had faded to an almost illegible degree and was kept behind glass.
Gene said, "The onlooker's account is sealed in helium, just like the Declaration of Independence, to preserve it. I've had it authenticated by historians, expert in the period." The words were transferred onto the stone.
The eerie account told of the misty morning when the helpless fair-haired teenager, a mere girl, forced to lay under the weight of the wealth of England, was led to her death.
I read the inscribed: Queen Katherine emerged just before nine in the morning. A rain the night before had turned the courtyard muddy to our ankles. The streets containing the foul smell of chicken scratch and horse urine slurried into the mix. Gawkers' pushed for position and strained to see the delicate fawn-like Katherine as she walked barefoot, clothed only in a very plain and simple linen dress. The exposed skin of her upper chest was so pale I could see the ghostly blue vein patchwork just beneath. The last time I had seen the young queen she was amazing, the most beautiful woman in all England.
Fancily dressed and bright, riding in an open coach smiling sweetly waving to her subjects, I fancied the thought our eyes might have met for a second.
"
Spill her blood!" A spectator called out. I thought, what cowards this mob, content to stand by and watch. Greedily clinging to their own lives–any one of which could be wrenched from him in a second.
This bitter gray morning, the little Queen made her way slowly up to the old worn wooden steps, pausing briefly, turning sad doe eyes back to the crowd. A pitiful thin waif of a child so helpless and demure, Katherine continued up the stairs carefully gripping the railing as if it were her mothers hand, that somehow she might be swept away from all this.
Once upon the platform, facing the crowd full on, her tiny limbs were exposed and pale, a simple dress hanging over her nearly shapeless frame. She wore no jewelry. Her one remaining vanity, long hair, perfectly combed. The henchman placed her firmly against the block and with a blank and helpless stare Katherine moved her beautiful locks to one side exposing her slender neck.
I waited for her to jump to her feet and scream out in defiance, "What have I done that your precious King isn't guilty of?"
Laying her head sideways on the block, she awaited her fate in silence.
The black-hooded killer appeared to us like a giant standing over her. A moment before, even the handle of the axe and the blade had been taller than the living little queen. He drew back.
I heard the neck cracking then a thud as the girl's head crashed to the platform floor. Steam rose from the blood pouring in a warm pool from the lifeless body slumped behind the block.
Gene Hobbs had acquired the only known account of the gruesome event; one can imagine that onlookers must have rushed to write on whatever they could find to recount the scene. The metaphor of the rich over the poor and the machinery of torture in the room made me shudder. Reading the narrative, I felt sickened by the horror of the day, for lost innocence and the tyranny of the time. What a waste of a beautiful young life; what a disgrace for England.